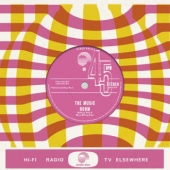 Belbury Poly & Moon Wiring Club
Other Voices 09
Label: Ghost Box
Genre: Rock / Pop
The latest in a series of singles featuring regular Ghost Box artists, special guests and one off projects. This time it's a collaboration between the label founder Jim Jupp's band, Belbury Poly and Ian Hodgson's marvellous Moon Wiring Club.The artists have very different approaches to their work, but share similar reference points and a common sensibility. Their ideas complement each other perfectly in these two weirdly baroque, electronic miniatures.
Moon Wiring Club is the recording alias for Ian Hodgson. Hodgson is also a graphic artist and has built a huge, bewilderingly detailed other-world of art and fiction around his twelve album releases. Sparse, beat led soundscapes haunted by fragmented voices, Hodgson's music is deeply creepy, yet flavoured with a subtle sense of humour.
Jim Jupp, co-founder of the Ghost Box label, records as Belbury Poly. His melodic electronica references 70s library music & TV soundtracks. Like Moon Wiring Club, it's music that's simultaneously light and eerie.