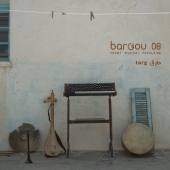 Bargou 08
Targ
Label: Glitterbeat
Genre: World Music
Availability
LP 180GR +MP3 COUPON €19.99

In Stock
It's the forgotten place. Lying between the mountains of northwest Tunisia and the Algerian
border, the Bargou valley and the village named after it lie isolated, away from the world. It's
poor, barren country, but standing apart, Bargou has developed its own culture that had never been documented until Nidhal Yahyaoui began the task.
Born in the valley, he grew up hearing his parents and family sing the songs that belong to the region, and he was determined that the music and traditions shouldn't slip away into obscurity. With Targ, the album he's made with his band Bargou 08, Yahyaoui has perfectly fused the past and the present to place Bargou on the map.
"Nidhal began collecting songs from all over the valley more than ten years ago," explains producer and keyboard player Sofyann Ben Youssef, who's known Yahyaoui since they were both ten years old. "No one had ever done that before. He listened to the women, to the village elders, and he learned all the variations on the songs. This is his passion, and he asked me to join him."
Together, they assembled a collective of both local and European musicians who spent three weeks playing in the Yahyaoui family home in Bargou village. They worked on the material, shaping a sound that harnessed the power of the tradition and connected it to something the young would understand.
They took the music they'd created on the road, playing it in cities and villages throughout Tunisia and around the globe, including roaring performances at the famed Roskilde festival in Denmark and the Rainforest festival in Sarawak. For touring, Bargou 08 became a five-piece band, with Yahyaoui on vocals and loutar, Ben Youssef on Moog, along with drums, bendir, and gasba and zokra flutes. By the time they arrived back in Bargou to finally record, they'd honed their ideas and knew how the album would sound.
Bales of hay were piled up in the rooms to act as acoustic baffles. Ben Yousef set up in the kitchen, operating the recording equipment with one hand and playing Moog with the other. It was an improvised setup, but it captured the fire and energy of the musicians' performances. But it all revolves around Yahyaoui's voice. Raw and emotional, plaintive and passionate, it proudly bears all the weight of history. And underneath, the thick, fat bass carries the music firmly into the 21st century.
Yahyaoui's singing, whether about love or the sense of difference and isolation that marks the Bargou people, catches every strand of emotion in the songs, making them so real and concrete that the songs could have been written yesterday. Around him, the explosive rhythms of drums and percussion give a primal power to the bass grooves. It's the trance of the past emerging from out of the speakers.