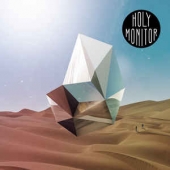 Holy Monitor
Holy Monitor
Label: Blackspin Records / Primitive Music
Genre: Rock / Pop
Holy Monitor is a music collective from Athens, Greece formed in 2015.

With kraut-motorik rhythms, hypnotic vocals and sticky guitar riffs, Holy Monitor creates an environment of cosmic-space feel, leading the audience into a bright sonic swirl of psychedelic oscillations.



With more than 28.000 views on youtube in just 10 days, the first public impressions from their new album have been received & the digital press has already responded with enthusiasm:

Holy Monitor have returned with a ten track monolith that will literally blow your mind. (Primal Music Blog)

This is beautiful. Bassline, percussion, keyboards, guitar riff. In that order. Holy Monitor is slowly building up a quite interesting universe. (Southern Psych Groove)

This is a fearless song that introduces one of the most satisfying listening pleasures that no one predicted that 2017 could deliver so early! (Sound Injections

Physical copies are available in two limited editions of high quality clear-copper & blue-white marbled vinyl, 200 copies each!