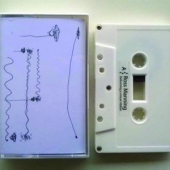 Manning Ross
Deforming A Virtual Ribbon
Label: More Mars
Genre: Electronica / Ambient / Experimental
Ross Manning is a contemporary new media artist based in Brisbane, in Australia, working with optics, projection, light and sound. From a youth, Ross Manning was focused on music, making his own shelf-played instruments and custom electronics, giving him the opportunity to improvise with them in a live context. His interest in technology led him to work with light, making sculptures and installations, inspired from the principal ideas of sound and movement. His music is already released by respectful music labels as Vitrine, Greedy Ventilator and Room40.
"Deforming A Virtual Ribbon" is the outcome of Ross Manning long experimentation with sound and interactive music systems, starting with technology behind them, produced by his automated instruments.
In "Polaris" and "Gold Spray In The Kinetic Upheaval", Ross Manning is using DIY electronics and his shelf-made string pannel, producing rhythmical patterns, which come from the wave motion of the string and beating of the metal bars. Sonically, these two tracks have a sense of gamelan music, especially in their most low moments, but sound also get more busy, constructing an extremely dense amalgamation of sounds.
"Drnk Poets" is a collage composition, mixing radio voice, chaotic noisy percussion and drone resonancial frequencies. In "Deep Learning", Ross Manning experiments with electronic sources, constructing layers of hypnotic drone sounds. In both of these tracks, Ross Manning approaches music more as a source of images, presenting us a more deep understanding of music at many levels.
"Deforming A Virtual Ribbon" cassette released in a limited edition of 100 Copies.
Artwork by Ross Manning, representing musical instruments that it was used for the recordings.