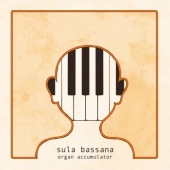 Sula Bassana
Organ Accumulator
Label: Deep Distance
Genre: Electronica / Ambient / Experimental
One of a flurry of killer Deep Distance releases early on for 2017, "Organ Accumulator" sees a welcome return to the label for Germany's SULA BASSANA following 2015's epic "Kosmonauts" double set- separated by last year's mighty "Shipwrecked" full length on the bands' own Sulatron label.
Although "Organ Accumulator" reveals a more relaxed side to previous output, SB still tread firmly within the revered kosmische ground of motorik grooves, ambient trance and pulsing electronics. An absolute must for all fans of Schulze, Tangerine Dream, Cluster, the Sky label and so on, not to mention latter day heroes -and previous label mates- like Panabrite, JD Emmanuel, Cosmic Ground, Expo 70 etc….
Sula Bassana is pretty much the solo outlet for Electric Moon & Zone Six's Dave Schmidt- who wrote, recorded and produced everything himself on synths, sequencers, portable keyboards, smaller organs and drum boxes etc. "Lichtbuendel" was recorded almost exclusively on a Casiotone 403, via a fat effects board and guitar amp, whilst tracks like "The Frogs" tips it's hat to the soundtrack work of John Carpenter and "Nebelschwaden" perhaps does likewise for the early work of Vangelis…
All in all, another tremendous full length dressed in gorgeous Lulu Artwork sleeve, and on splatter wax in a one off pressing destined -like the bands' previous output- to sell out super quick.