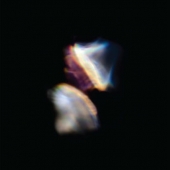 Emptyset
Borders
Label: Thrill Jockey
Genre: Electronica / Ambient / Experimental
Availability
LP + MP3 COUPON €21.99

Dispatched within 5-10 working days
Emptyset are the innovative electronic duo of James Ginzburg and Paul Purgas. They compose within a complex set of self-imposed parameters or rule sets and the results of their expeditions on 'Borders' are at once minimal and visceral. Focusing on shifting timbral changes over melody, Emptyset's work is an exploration of the relationship between rhythm, texture and space.
The band explain: "'Borders' represents a new way of working bringing together custom instruments, live performance and the merging of acoustic sounds with analogue electronics. The material signifies the start of a new area of exploration for the project that will be realised through further international live events, bringing the record back into a performance settings and bringing a very human aspect into the sonic lexicon of Emptyset."
'Borders' is Emptyset's Thrill Jockey debut following limited and sold out releases for Raster-Norton, Subtext, Future Days and Caravan Recordings.
The pair shares a history in Bristol's underground music scene as well as an impressive list of production credits. James Ginzburg, now Berlin based, runs a network of record labels including electronic music label Subtext and Arc Light Editions, whose reissues include a work by Arthur Russell. He's a prolific producer and remixer for both independent and major labels, with diverse projects such as Faint Wild Light, Ginz and more recently Bleed Turquoise. Paul Purgas, now based in London, founded the We Elude Control label in 2009, a curated collection of rare experimental music. Purgas is an artist, writer and curator who has presented projects with Tate, Whitechapel and Serpentine Galleries and he is also an active promoter of electronic music in eclectic spaces from a carpark to a Modernist pavilion.