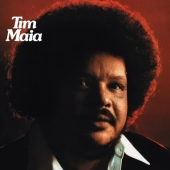 Maia Tim
Tim Maia
Label: Vinilisssimo
Genre: Freestyle / Nu Jazz / Funk / Afro
Availability
LP €21.99

Dispatched within 5-10 working days
Tim Maia was born in 1942 in the suburbs of Rio de Janeiro and started his musical career at an early age, along with close friends such as Roberto Carlos or Jorge Ben. Carlos would eventually help him to get a deal for his first single at CBS.
During the 70s Maia started to incorporate soul and funk elements into his style. After a two-year period involvement in the Racional cult in Brazil, Maia's funky style was still at its best when he released this album in 1977. It was his first and only recording for Som Livre, the legendary label that became extremely popular due to the many soap operas soundtracks in its extensive catalogue.
This self titled LP deserves to be shortlisted among Maia's top records. It features killer tunes like the anthemic 'É necessário', undoubtedly one of the best songs in his career, and also boogie gems such as 'Verão carioca' or 'Venha dormir em casa' that show obvious influences by some of the biggest American soul artists of the time. It also contains intimate vocal delights as in the lovely smooth tune 'Musica para Betinha' or even straight funky instrumentals like 'Flores belas'. The string arrangements, wah wah guitars, horns, deep vocals… make this recording a milestone in the so-called "Black Movement" in Rio, where artists like Toni Tornado, Banda Black Rio and Maia himself were bringing in the funky sounds of America and mixing them with local rhythms like samba.