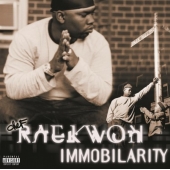 Raekwon
Immobilarity
Label: Music On Vinyl
Genre: Hip-Hop
Availability
LP x2 180gr AUDIOPHILE €26.99

In Stock
Immobilarity is the second studio album and the follow-up to Only Built 4 Cuban Linx by Wu-Tang Clan-member Raekwon (a.k.a. The Chef). Raekwon has been cited as a pioneer of Mafioso rap and is the founder of his own label ICEH20 Records.
The producers Triflyn, The Infinite Arkatechz and Six July Productions gave Immobilarity the same sounds which producer RZA gave to Raekwon's first album with ill beats and street lyrics.
Fellow rappers from the Wu-Tang Clan also appear on the album such as Method Man on "Fuck Them", "Power" with the American Cream Team and "The Table" featuring Masta Killa. As a nice bonus attribute there's even a solid Pete Rock produced track "Sneakers" with Raekwon's flowing rhymes.
Raekwon explained that the album title is an acronym for I Move More Officially by Implenting Loyalty and Respect in the Youth.
The album, which was originally released in 1999, reached to number 2 in the US Billboard Top R&B/Hip-Hop Albums and number 4 in the US Billboard album charts and was certified gold by the RIAA.


180 gram audiophile vinyl


Gatefold sleeve


Includes "Fuck Them" featuring Method Man, "Sneakers", "Yae Yo" and "Power"