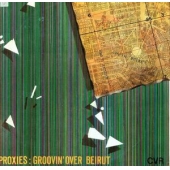 Proxies
Groovin' Over Beirut - Extended Reissue
Label: Anna Logue
Genre: 80s Wave / Rock / Pop / Punk
Groovin' over Thessaloniki...
As part of the emerging alternative rock/post-punk movement, Proxies was formed around 1978-79 in Thessaloniki, Greece, by Dimitrios Bitzenis (guitar), Jiannis Nastas (bass), George Pavlidis (lead singer), Manolis Trihakis (keyboards), and Lazaros Pliampas (drums). This formation got very well known locally by playing covers of Roxy Music, Talking Heads, Magazine, Devo, Television, Stranglers and other New wave bands. When Pavlidis left Greece, Nastas also left Proxies to form his own band, thus leaving Bitzenis behind as the new lead singer, guitarist and synth player, Trihakis on synth and bass, and with Pliampas still on acoustic drums. That formation almost got an contract with EMI but Xristos Vatseris (RIP), owner of the independent Thessaloniki based record company CVR, took Proxies under his wings so that they could keep control over their work. Eventually - in 1983 - their debut album "Groovin' over Beirut" was released, recorded at the CVR studio together with engineer Kostas Kosmatopoulos (RIP). Bitzenis and Trihakis then went to the UK to study and almost got signed to Virgin Records who loved their music. Unfortunately they had to return to Greece to do their military service and the dream was over. In 1984, Pliampas left the band and the second album "Eastern Side of Love" was released. It featured a cover of the traditional Greek song "Fishing Boat" which became a huge hit and made Proxies a well-known name all over Greece. Trihakis eventually left the group due to not agreeing to the musical direction Proxies was about to pursue. In 1991, Bitzenis released a new album together with his cousin Nikos Bitzenis (who later formed the band Mikro and co-founder of Undo Records), and a final album together with Marina Jele in 1994 before Proxies went quiet. This re-issue features a bonus LP with six previously unreleased tracks recorded between 1982 and 1985.

2LP features: limited edition of approx. 300 copies, 140 grams black vinyl, 6 unreleased bonus tracks, UV laminated outer sleeve, mastered by Martin Bowes.