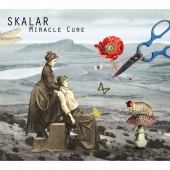 Skalar
Miracle Cure
Label: Lollipoppe Shoppe
Genre: Rock / Pop
Availability
MCD €7.99

Dispatched within 5-10 working days
Unconditional love for the song – this unites the three of SKALAR. Writing songs, arranging them together and making them shine: this simple yet traditionally handed down idea is what SKALAR's members are excited about and driven by.
The three of them met within a tiny but nevertheless lovingly cared for subcultural music scene in non-glamourous Oberhausen. The longtime activities there were concisely described by English singing poet Stephen Burch alias "The Great Park" (who can also be seen in Oberhausen every once in a while) by stating: "They are making their own fun."

"Their own fun" is what Anne, Groucho and Sebastian have been making within several band constellations for a long time now (Ship of Ara, Balsam, Cosmic Kangaroos, The Cherrypops and others...).

The many years of vivid musical experience and exchange gives SKALAR an expression that can be located somewhere between Jefferson Airplane, Carole King, Fairport Convention and something you might call good pop music.