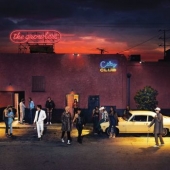 Growlers
City Club
Label: Cult Records
Genre: Rock / Pop
Availability
CD Digi / Cardboard €17.99

In Stock
Other Formats
The Growlers are an American band formed in Southern California who's sound has been described as a trademark style of music, effortlessly managing to combine eclectic elements of country, lo-fi punk, surf/psych/garage rock, Tex-Mex, and
slacker/stoner/skate culture into something that is uniquely their own.
Known for their relentless touring schedule and DIY work ethic, the band is one of the most exciting independent success stories of recent years. The band has toured with The Black Keyes, Dr. Dogg, Devendra Banhart, and Jonathan Richman, among others.
The album is produced by Julian Casablancas (first album produced) & Shawn Everett (Grammy Award Winner for engineering with Alabama Shakes), Co-Mixed by Ben Baptie (The Growlers, Adele, Arcade Fire, U2)