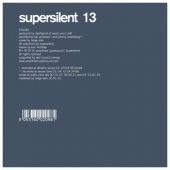 Supersilent
13
Label: Smalltown Supersound
Genre: Jazz / Avant Garde
Availability
CD €16.49

Dispatched within 5-10 working days
Other Formats
You can't accuse Supersilent of keeping the noise down. Ever since the Big Crunch of 1997, when Norway's finest free music outfit came together for the first time, their unpredictable noises and rapturous textures have been heard all around the world – and maybe somewhere outside the stratosphere too. Currently a trio featuring Helge Sten, Arve Henriksen and Ståle Storløkken, Supersilent 's album number 13 marks a turning point in the group's two-decade career. After a dozen recordings under the umbrella of the diverse Rune Grammofon label, Supersilent have now signed to Oslo based Smalltown Supersound, where they join the likes of Lindstrøm, DJ Harvey, Prins Thomas and Andre Bratten as labelmates.
Supersilent is a platform for a highly physical improvised electronic music, made by a trio that's a kind of supergroup of Norwegian players in their own right. Arve Henriksen's hypnotic trumpet has been heard with everyone from David Sylvian and Laurie Anderson to Jan Bang and the ice music of Terje Isungset, as well as releasing a string of acclaimed solo albums on Rune Grammofon. Keyboardist Ståle Storløkken has worked with Motorpsycho, Elephant9, Terje Rypdal, and the Humcrush duo with Sidsel Endresen. Helge Sten uses a complex array of homemade electronics, samplers, sound processing and analogue effects – cumulatively known as the 'Audio Virus' – in his solo ambient music as Deathprod, as well as having worked with Motorpsycho and producing artists like Susanna.
Supersilent was born when Sten injected the audio virus into a pre-existing late 90s free jazz group called Veslefrekk. Originally featuring drummer Jarle Vespestad, Supersilent slimmed to an electronic three-piece core in 2009, with all three often handling their respective instruments as if they were percussion, stabbing buttons and keys in real time. Recently Supersilent threw the legendary Led Zeppelin bassist John Paul Jones into the mix for a series of improvised concerts and recordings.
Most of 13's nine tracks were taped in an Oslo studio at the end of 2014. The band record everything live, while blasting their sound through a PA system, so that they can feel the physical air moving as if they were on stage. Tracks 1 and 5 date from 2009, immediately after their drummer's exit. 'They were tryout sessions to see how we should proceed,' says Helge. 'It was a kind of research for the band to feel how is to be three, not four, and to blow off some steam.'
All of Supersilent's music is entirely unplanned, with all three experienced musical adventurers throwing themselves into the moment and riding the emerging maelstrom. They always manage to surprise you, whether it's the Indonesian ritual music heard from a Scandinavian mountaintop on the opening track '13.1', to the demonic organ blasts at the end of '13.5'; or from haunting, pastoral atmosphere pieces ('13.6') to all-out splatter-improv ('13.7') and the compressed digital labyrinths of 13.9.
The trio swap instruments with abandon: percussion, trumpet and woodwind, electronics and Storløkken's collectable assortment of vintage keyboards. In this technologised environment, sounds are passed around, distorted and spat out again in tantalising splurges. 'It takes time to shape a band from the beginning,' says Helge, 'but for us now the trio is working really well'. With Supersilent's lucky 13, now you can be the judge of that.