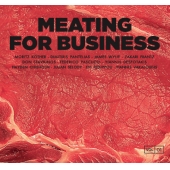 Meating For Business
Vol. 1
Label: Meating For Business
Genre: Jazz / Avant Garde
Availability
CD Digi / Cardboard €9.99

In Stock
musicians:
Moritz Köther: alto sax
Dimitris Pantelias: tenor sax
Hayden Chisholm: alto sax
Yiannis Vakaloudis: alto sax
Zakari Frantz: alto sax
Julian Selody: alto sax
James Wylie: alto sax
Federico Pascussi: tenor sax
Don Stavrinos: brass instruments
Evi Feelippou: marching snare drum
Yiannis Despotakis: toms, cymbals, shruti box


recording engineer: Don Stavrinos
mixed & mastered by Don Stavrinos / Studio 9, Athens, GR
remastered by Stamatis Fousekis / Studio ZK, Volos, GR
cd sleeve design by Dafni Bellou
produced by Mihalis' Butcher Shop & Don Stavrinos, 2016
------------------------

MEATING FOR BUSINESS
The source of our inspiration is the street and reality itself.
Thus, the play is purely experiential, beyond institutionalized, structural, linguistic barriers.
Simply: Raw, Sincere, Unforeseen, Free.
In 2013, we started performing as a duet in Athens along with Yannis Despotakis. In 2015, a cycle of various recordings along with improvisers from several countries around the globe began, part of which is included in this first collection. What especially defines and characterizes these recordings, is the delectation of immediacy without anyacademic barriers.
MFB1-1 was recorded in the living room of Mrs Klidonaris' house, in Agios Lavrentios of Mount Pelion. The horn section is divided into two groups of four (left - right) and the two percussionists are set in the center. There is a basic structure that primarily concentrates on the flow and the dynamics without focusing on institutionalized harmonic connections and rhythmic conduction.
MFB1-2 & MFB1-3 are the two final from a live concert given in Athens.

As a sound engineer, I tried to keep the final recording loyal to the timbre and dynamic field of each improviser while remaining sincere to the mood of the ensemble during the recording.

The audio sources were captured by 3 mics (left, right, center) and any adjustments during mixing & masteringare minimal, being more of a technical rather than an aesthetic nature.

Enjoy listening and good luck,
Don