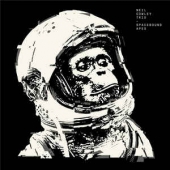 Cowley Neil Trio
Spacebound Apes
Label: Hide Inside Records
Genre: Jazz / Avant Garde
Availability
CD Digi / Cardboard €16.99

Dispatched within 5-10 working days
'Spacebound Apes' is the sixth studio recording from Neil Cowley Trio; a concept album that weaves a glorious soundtrack of breathtaking music around a magical, thought-provoking tale.

Hypnotic passages create heart-pounding suspense while sweet, whispered themes create heart-shattering empathy. Bold, bombastic tunes create drama, and in a departure from the trio's usual acoustic setting, electronics orchestrate desolation and despair.

Widely acclaimed as a dazzling composer, Cowley demonstrates his flair for bold, dynamic, emotional music with cinematic themes that has an enormously broad appeal. The trio have, over their ten year history built a reputation as being one of the genres most captivating live bands performing in a variety of genre-crossing settings.