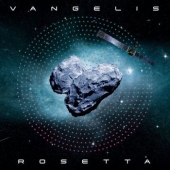 Vangelis
Rosetta
Label: Decca
Genre: Electronica / Ambient / Experimental
Availability
CD Digi / Cardboard €15.49

Dispatched within 5-10 working days
DECCA today announces a brand new album entitled 'Rosetta' by legendary composer and pioneer of electronic music, Vangelis, inspired by his long-held passion for space.
Released on 23rd September, Vangelis' breathtaking recording is inspired by the Rosetta Mission, a pioneering project by the European Space Agency (ESA) to land a probe on a comet for the first time in history. The release of the recording marks the culmination of the 12-year mission and is accompanied by incredible footage captured by the probe.
Vangelis, whose celebrated scores include the trailblazing 'Chariots of Fire' and 'Blade Runner', reveals his musical inspiration: "Mythology, science and space exploration are subjects that have fascinated me since my early childhood. And they were always connected somehow with the music I write."
The project came about after ESA astronaut André Kuipers, a long-standing fan of Vangelis, reached out to the composer whilst aboard the International Space Station. After sharing stories and experiences via a video call from the ISS, Vangelis was inspired to write 'Rosetta'. The music is dedicated to everyone who made ESA's ongoing Rosetta Mission possible, in particular extending the track 'Rosetta Waltz' as an expression of his appreciation to the mission team.
Carl Walker from ESA says of the project:
"When we put the mission footage images together with the music, we thought it captured how people would feel if they were to see the comet for real in close-up. With music, you can enhance emotions and create memories: I believe that what Vangelis wanted to do was share a lasting memory of our Rosetta mission through his music."
Vangelis' music is often linked to themes of science, history and exploration. Alongside his Academy Award-winning score for 'Chariots of Fire', he has written the choral symphony 'Mythodea' for NASA's 2001 Mission to Mars, as well as films including 'Antarctica', '1492: Conquest of Paradise' and 'Alexander'. His music has also been used in the documentary series 'Cosmos', by Carl Sagan.
To Vangelis, music is a sacred, basic force of the universe, its purpose to elevate, inspire and to heal humankind. Never has this been more obvious than on 'Rosetta', which perfectly blends his fascination with the universe and his masterly ability to compose stirring music that fuels the senses. As ESA's Carl Walker says: "It is music that makes the hair stand up on the back of your neck."