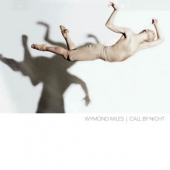 Miles Wymond
Call By Night
Label: Sacred Bones
Genre: Rock / Pop
Availability
CD €16.99

Dispatched within 5-10 working days
Wymond Miles was raised in the working-class small towns of the American West. On Call by Night, the singer's latest widescreen opus, Miles masterfully evokes that lost landscape, all while grappling with issues of fatherhood, privacy, PTSD, violence, and dissipated romance. The album adds a critical new chapter to the Fresh & Onlys guitarist's story as an artist, and reasserts him as a major voice in contemporary songwriting. Call by Night sees Miles building a noticeably bigger sound than on his previous solo records, while simultaneously standing as his most intimate work.
It's a record explicitly written for the fidelity of the vinyl format, with louder songs beginning each album side and quieter songs at the interior. His attention to sequencing paid off; the album flows like a piece of classic cinema, and sounds like it's splashed across a drive-in screen in 70mm. Recorded using vintage gear by Phil Manley (The Fucking Champs, Trans Am) at El Studio in San Francisco and Miles' Garden Chamber home studio, the record is a treasure of tube-amp warmth, and a landmark in the songwriter's catalog. Miles wrote most of Call by Night on piano, and while the wall-of-sound guitar and cinematic synth playing that helped define his earlier efforts is still present, the beating heart of the songs is left more open thanks to his new method.
Where previous full-lengths were cloaked in distinct aesthetic choices, this record exists outside of any stylistic restraints. "Divided in Two," the lead single, considers dignity, class, honor, and father-son relationships through the devastating lens of PTSD, all set to a sardonic flag-waving waltz, with martial percussive bomb blasts. The title track explores the enduring aesthetic of British psych-folk. Other songs dip into the traditions of gospel music, sea shanties, and even big-box power ballads, using antique instruments and Miles' unique perspective on the modern world to forge a new collection of entries for the American songbook. Miles has said the songs on Call by Night mark his "more definitive commitment to seek, listen, and give voice to an enduring muse." If that's true, then the muse has obviously been singing to him loud and clear.