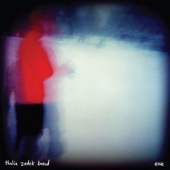 Zedek Thalia Band
Eve
Label: Thrill Jockey
Genre: Rock / Pop
Availability
CD Digi / Cardboard €16.99

Dispatched within 5-10 working days
Thalia Zedek has one of the most enduring and distinctive voices in modern rock music — a voice like no other — that can be heard in her work with some of the most groundbreaking underground bands, from Uzi and Live Skull to Come. Since 2001, Zedek has been making music under her own name, releasing a string of critically acclaimed albums. Her latest, Eve, is her most accomplished album to date, building upon the foundations of her previous releases. Again the album features her bluesy, gritty guitar work and her distinctive vocals that, when juxtaposed with graceful viola and piano, give the songs on Eve a compelling tension. Her lyrics remain deeply personal and her emotional re is palpable, but she has developed a control in her delivery that brings new dynamics to the music and gives room for the emotions to breathe.
Loss, isolation and alienation are some of the themes Zedek frequently returns to, with songs such as the soaring "360" and "By the Hand" touching on deeply personal emotions and making for an intimate listen. Zedek's band is very restrained on Eve, a clear indication of her vocal con dence. Great examples of this restraint can be found on "You Will Wake" and "All I Need," which are both spare and raw, with heart-felt emotion carried almost entirely by Zedek — it is impossible to deny the songs' beauty and power.
Eve was recorded and mixed by Andy Hong at Kimchee Studio. For this record, Zedek's band is made up of talented and trusted musicians David Michael Curry (viola) and Mel Lederman (piano), who have worked with Zedek since 2001's Been Here and Gone. Winston Braman (bass) played on 2008's Liars and Prayers, and newest member Jonathan Ulman is back on drums for his second recording with the band.
Thirty years in, Zedek is as active as she has ever been. She started the new rock band E with Jason Sidney Sanford (Neptune) and Gavin McCarthy (Karate). She continues to tour with the Thalia Zedek Band and has done more than a few Come reunion shows. On Eve, we nd the results of a creative thinker whose life experiences are laid bare and whose mesmeric voice and startlingly honest songwriting deliver a singular emotional punch. Eve should cement Zedek's place among alternative rock's greatest practitioners.