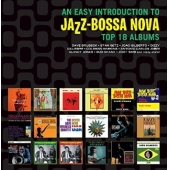 Various Artists
An Easy Introduction To Jazz-bossa Nova
Label: Masterworks
Genre: Freestyle / Nu Jazz / Funk / Afro
Availability
CD x9 BOX €32.99

Dispatched within 5-10 working days
The Bossa Nova style was born in Brazil in the late
1950s. As many American jazz stars toured South
America during those years, bossa slowly became
known in the United States. However, in early 1962
Stan Getz recorded a couple of albums combining
bossa with jazz that unexpectedly became topsellers.
As a result, a bossa nova craze developed
and nearly every jazz star recorded his/her own
bossa nova album, or at least included a couple of
bossas in their LPs or concerts.
This collection contains 18 complete albums from
the bossa nova-jazz craze, including two 1953
precursors by tenor saxophonist Bud Shank and
Brazilian guitarist Laurindo Almeida, as well as
brilliant works in the genre by such stars as Stan
Getz, Quincy Jones, Dizzy Gillespie, Dave Brubeck,
Zoot Sims, and Coleman Hawkins, among others,
and the landmark early recordings by Joâo Gilberto
and Antonio Carlos Jobim which introduced Bossa
Nova to the world.
Our set also presents 21 bonus tracks complementing
the main LPs.
Includes a 20-page booklet including rare photos,
vintage memorabilia and detailed liner notes.