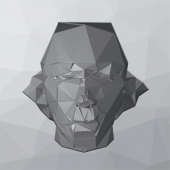 No Man's Land
Infinite Equinox
Label: Anazitisi
Genre: Rock / Pop
Availability
Other Formats
Black vinyl.
After a string of internationally acclaimed releases, No Man's Land, the psych – prog – avant rockers from Athens, Greece are scaling new heights with their seventh album "Infinite Equinox" (their fifth outing for Anazitisi Records).
No Man's Land have been around since the late eighties, shape-shifting their way through time, much lauded for their electrifying shows and releases, as well as for their prowess, inspiration, fearless experimentation and tenacity. Though the band has been making a point of releasing albums that are quite dissimilar to one another while at the same time maintaining a certain common thread, "Infinite Equinox" is unlike anything No Man's Land have attempted before. For the most part, the conception and execution of the new material came as a result of hours of improvisation and spontaneous composition, both in the studio and on stage. The recording of the album was completed in a weekend, with almost all backing tracks recorded live. Plenty of space was left for on-the-spot improvisations, which were combined with more or less outlined parts. The lyrics were also written in a much more free association vein than ever before.
"Infinite Equinox" consists of three tracks, two extended ones and a shorter one, each carrying a symbol as its title. The final result is a unique experience, an album that immediately captures the listener's attention, while at the same time demanding repeated listening sessions: almost nothing sounds the same way twice, dozens of different hues and nuances weave in and out of the music, carrying the listener in its ebbs and flows. Trippy, spacey, psychedelic, progressive, far out but
down to earth, "Infinite Equinox" marks a definite turning point in No Man's Land's career.
Limited to 200 black copies and 100 coloured.
Fully laminated cover.
2-pages insert.
180gr vinyl as usual.
Re-sealing protective outersleeve.