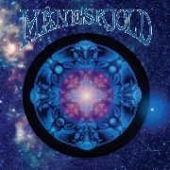 Maneskjold
Kometen Kommer
Label: Kommun 2
Genre: Rock / Pop
Availability
LP €19.99

Dispatched within 5-10 working days
Other Formats
"This is brick hard space rock with a Danish twist!" - Daniel Ekeroth, author of Swedish Death Metal.

The sound of space travelling shoe gazers and a bundle of wall-of-sound guitars come together bewitchingly on the debut release from Danish psychedelic band Måneskjold.

Since forming a few years ago, Måneskjold has made a name for themselves on the Danish scene. They have been developing a unique sound that has been likened to "Brian Jonestown Massacre rendering Hawkwind" that is ready to conquer the planet. This album, more than a year in the making, is anchored by a running thread of variations on several interstellar themes, hinting at influences ranging from First Band From Outer Space and Amon Düül II to shoegaze and kraut.

Black vinyl.