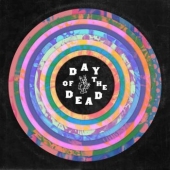 Various Artists
Day Of The Dead
Label: 4ad
Genre: Rock / Pop
Availability
CD x5 BOX €31.99

Dispatched within 5-10 working days
• A celebration of The Grateful Dead's music, 'Day Of The Dead' was created and curated by brothers Aaron and Bryce Dessner of The National.
• For both Aaron and Bryce, The Grateful Dead were a gateway to playing music together; the first music the brothers investigated deeply, drawn not just to the Dead's songwriting but also to the detail, spontaneity and depth in the instrumentation. A life-long love affair with The Dead was born in those teenage years and crested when The National were invited to play a HeadCount.org fundraiser with Bob Weir in March 2012. The band assembled for this event learned over 25 Grateful Dead songs and most of those players went on to form the 'house band' heard on many of 'Day Of The Dead's tracks.
• The compilation is a wide-ranging tribute to the songwriting and experimentalism of The Dead which took four years to record and features over 60 artists from varied musical backgrounds, 59 tracks and is almost 6 hours long. Produced by Aaron Dessner and co-produced by Bryce Dessner and Josh Kaufman, many of the tracks feature an all-star house band made up of Aaron, Bryce, fellow National bandmates and brothers Scott and Bryan Devendorf, Josh Kaufman and Conrad Doucette along with Sam Cohen and Walter Martin.
• The record shows the broad reaching impact and legacy of the Grateful Dead, both culturally and musically.
• 'Day Of The Dead' is released on 5 CDs. All profits will help fight for AIDS / HIV and related health issues around the world through the Red Hot Organization, a not-for-profit organization started in 1990 by Leigh Blake and John Carlin with the Cole Porter tribute album 'Red Hot + Blue', which raised millions of dollars, helped reduce the stigma around AIDS at the time and supported organizations and efforts such as ACT UP and T.A.G.