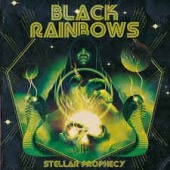 Black Rainbows
Stellar Prophecy
Label: Heavy Psych Sounds
Genre: Stoner / Post Metal / Industrial Rock
Availability
CD Digi / Cardboard €12.99

In Stock
Other Formats
Italy's stoner rock torchbearers Black Rainbows reveal the details of their upcoming new album Stellar Prophecy. This new effort from the fuzzy trio follows closely the 2015 release of their fourth full-length "Hawkdope" on Heavy Psych Sounds.
BLACK RAINBOWS' frontman Gabriele Fiori comments: "Stellar Prophecy is in line with our previous record "Hawkdope" released last year. It's made of seven songs for a total running time of forty-four minutes. You'll be able to enjoy two long suites ("Golden Widow", "The Travel"), a couple of super fuzzy classics ("Electrify", "Is Time to Die"), as well as a 70's-sounding hit ("Woman"). The rest is to be discovered by the listener!
We're very happy with this album and find it very well-balanced: it's spacey, psychedelic and blistering... It's 100% Black Rainbows!"