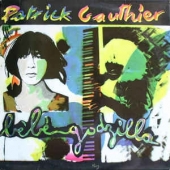 Gauthier Patrick
Bebe Godzilla - Rsd Release
Label: Souffle Continu Records
Genre: 60s / 70s Rock / Pop / Progressive / Kraut
Keyboardist in some of the most
talented french progressive bands
Heldon, Magma & Weidorje,
Patrick Gauthier recorded his
debut album « Bebe Godzilla »
with an impressive cast of guest
musicians including Richard
Pinhas (guitar, moog, mix),
Christian Vander (drums),
Bernard Paganotti (electric bass),
François Auger (drums) & Didier
Batard (electric bass) just to
name a few. The result is an
outstanding mixture of
electronics, powerful zeuhl, and
jazz‐rock dominated by
synthesizers. First time vinyl
reissue under licence from Patrick
Gauthier & Richard Pinhas.
TRANSPARENT BLUE VINYL