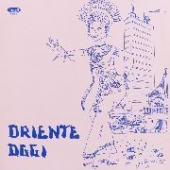 De Filippo Rino
Oriente Oggi
Label: Cinedelic
Genre: 60s / 70s Rock / Pop / Progressive / Kraut
Limited to 100 copies on coloured vinyl. Only a handful available, so first come, first served. An album of eastern
tinged Italian library music by Rino "Awake" De Filippi,
recorded in 1972 by historic RCA sound engineer Pino
Mastroianni with a.o. drummer Vincenzo Restuccia and Bruno
Battisti D'Amario on stringed and ethnic instruments. The
tracklist includes the classic mid-tempo funk-break tune
'Oriente Contemplativo'!