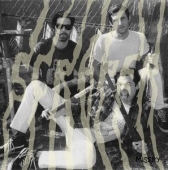 Scraper
Misery
Label: Slovenly
Genre: Stoner / Post Metal / Industrial Rock
Availability
LP €15.99

Dispatched within 5-10 working days
It is with great gusto that Slovenly Recordings thrusts the 2nd LP from San
Francisco's SCRAPER squarely into the jaws of the desperate. Produced by
Chris Woodhouse (Thee Oh Sees, Ty Segall, Blind Shake) at The Dock in
Sacramento, "Misery" is an exercise in simplistic, tightly controlled
negativity that crushes the fine line between panic and frenzy into oblivion.
A rapid attack of artillery-mimicking snare and bass heavy hunch is the
canon, wrought in a Bay Area sewer and reveling in a verminous infestation
of post-punk pulse: think WIRE versus THE SPITS in a Shaolin death trap.
Necessary indictments of dot-com Silicon scum manifest in "Rodent" while
"Clones" and "Reaction" drive the point with unparalleled frustration and an
uncanny ability to deliver remarkable rock' n' rattle. SCRAPER administers a
deliberate slug to the gut, never fucking around with pretty boy gimmicks
and pretense, and "Misery" is the rabid battle cry.