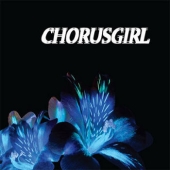 Chorusgirl
Chorusgirl
Label: Fortuna Pop
Genre: Rock / Pop
Fortuna POP! are delighted to welcome London-based noise pop quartet Chorusgirl into the fold, with their ST debut album. The brainchild of German songwriter, singer and rhythm guitarist Silvi Wersing, Chorusgirl blend the shimmering dreaminess of 4AD bands like Lush, the noir pop of The Cure and the bittersweet electricity of The Breeders across 10 songs that sparkle with melody and pop nous but are stealthily subverted by something darker. After several years playing in bands that either split up or fizzled out, fed up with being someone else's bassist and feeling like the eternal chorus girl to other people's dreams, Silvi Wersing decided to strike out on her own.
Naming her own band with a heavy dose of irony, she recruited Udo Westhoff (bass), Michael Boyle (drums) and Diogo Oliveira (lead guitar) to flesh out the demos she had made on her laptop, polishing the recordings to a hi-fi sheen in Bear Cave Studios in Cologne. Dig beneath the surface of the perfect pop songs on Chorusgirl and you'll find heavy lyrics about saying goodbye, giving up, grief, alienation and loneliness. It's all deliberately coded though, shrouded in the metaphysical poetry that Silvi does so well. As she explains, "Most things in life are complex, so lyrics should be too. I like subversion and the non-obvious. Like the best kind of horror films." "Oh, To Be A Defector", the catchy as hell opening track, is about "not taking part, about not playing everyone's game. Of not belonging, of dropping out and of being ok with that and shouting that back at everyone", and takes its cue from the opening sequence of The Eternal Sunshine of the Spotless Mind; "No Moon" is about the death of a loved one and the intense loneliness straight afterwards; "Girls of 1926" is about Silvi's best friend: "We were like sisters, grew close, grew apart. It's a complex bond with unfinished business. I found a photograph of my grandmother and her best friend in the 1920s; they looked just like me and my friend. It's as close to a love song as I'll ever get, a love song to my best friend"; and "Sweetness and Slight", bubbling over with barely suppressed anger, is about intense disappointment and choking someone with sweet words that are not meant in such a sweet way after all.
With their debut album Chorusgirl breathe new life into guitar pop, reinvigorating the genre with fresh hooks and sharp-edged songs full of heartache, anger and grit. No longer the eternal chorus girl to other people's dreams, Silvi Wersing is creating the soundtrack to her own – and perhaps her nightmares too.