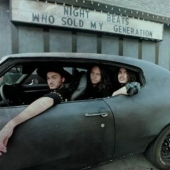 Night Beats
Who Sold My Generation
Label: Heavenly
Genre: Rock / Pop
Availability
CD Digi / Cardboard €17.99

Dispatched within 5-10 working days
• Night Beats release their new album 'Who Sold My Generation' on Heavenly Recordings. Their third album and first for Heavenly, it follows the release of their self-titled debut in 2011 and 'Sonic Bloom' in 2013.
• Recorded on old two-inch tape in Echo Park, Los Angeles at the home of producer Nic Jodoin and featuring co-production and guess bass playing from Robert Levon Been of Black Rebel Motorcycle Club, new album 'Who Sold My Generation' goes beyond merely being a retreading of well-worn garage / R&B path. Instead it offers a contemporary take on the psychedelic experience, a heady set of hoodoo voodoo songs.
• Very much a record in the great Texan musical tradition of acid-drenched outlaw music, 'Who Sold My Generation' picks up where the likes of The Elevators or The Red Krayola left off.