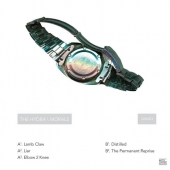 Hydra
Morals
Label: Nutty Wombat Records
Genre: Electronica / Ambient / Experimental
Gutter nature and service compartments cut up in pieces.
Striving for a goodnight, gouging the names that you will google next morning.
Morals for the sake of morality and opinions mirroring possesiveness.
Not many things at stake here.
In fact nothing but the time that passes despite us.
A narrow path in ambivalence,that leads to an ocean of clarity.
I really can't get enough of Dimitris Papadatos' music since stumbling across his Jay Glass Dubs project last year and including it in the Spool's Out best of 2015 list. Papadatos seems to be something of a musical polyglot, with several extremely distinct musical projects under his belt, including a singer-songwriter project called KU. The Hydra however, is something more akin to the trippy instrumental sonics of Jay Glass Dubs, albeit far more open-ended and less indebted to Jah. The Morals album out on Nutty Wombat in Papadatos' home city of Athens constitutes vast realisations of scattered dusty instrumental landscapes. We wander over a ground littered with synthetic drones, clambering over bountiful mountain ranges of queasy drum machine programming and squelchy samples.
A unique and bizarre new voice.

Tristan Bath for The Quietus.