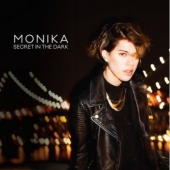 Monika
Secret In The Dark
Label: Fat Possum
Genre: Rock / Pop
• Monika Christodoulou grew up in Athens, Greece, the second child of busy professionals, in a house full of music. The family travelled frequently across Greece and Europe, sparking within Monika a deep love of all music and a passion to see the world. As a teen, she played piano, guitar and saxophone in various indie bands, eventually writing her own music. In 2006 Monika had a breakout hit with the emotional 'Over The Hill'. Though sung in English the song caused a sensation throughout her home country, followed by two platinum-selling albums showcasing Monika's impassioned poetry and effortless sense of melody, making her a bona fide star. From 2008 to 2012 she was happy headlining all the major Greek festivals, gracing magazine covers of and playing for adoring fans.
• After five years Monika got restless and sought a different sound and a new direction. She took on projects outside of her pop career, writing scores for two acclaimed theatre productions and spending more time abroad. On a trip to New York in 2012, Monika made a pilgrimage to Daptone Records' Brooklyn headquarters to see where some of her favorite artists recorded. On a whim, Monika knocked on the door and Homer Steinweiss (founding member of the Dap-Kings and Menahan Street Band) answered. Soon she was playing demos from her phone for Homer and Thomas Brenneck (MSB, Budos Band). The connection was immediate and the next stage of Monika's career began. Homer and Monika worked together on her songs and sound for the whole of 2014, shaping what was to become 'Secret In The Dark'.
• After a period of writing together in New York and Greece, the pair settled into Steinweiss and Brenneck's Dunham Sound Studios in Brooklyn, with Homer producing, Brenneck recording and a band that included most of the Menahan Street Band and various members of the Dap-Kings, Antibalas and others from the Daptone family.
• Monika and Homer brought in John Congleton (St, Vincent, Sigur Ros, David Byrne) to mix the record.
• The album that emerged put Monika's incredible voice and songwriting talents into a completely new context and pushed Homer and the band in directions they rarely explored before.
• A mix of organic 1970s-styled leftfield disco, 1980s art-pop and much more, 'Secret In The Dark' is a distinctly New York album seen through the lense of a Mediterranean pop star.