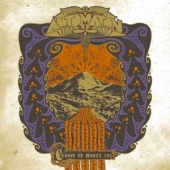 Automaton
Echoes Of Mount Ida
Label: Sound Effect
Genre: Stoner / Post Metal / Industrial Rock
Black vinyl.

Luxurious 4 panels silk screened cover with silver printed disco bag inner.
Astounding work by fuzz ink laboratory (Wight cover).
Automaton were formed in 2011 in Athens, Greece and have been performing live
since mid-2012. They have opened for Pentagram, YOB, Pallbearer, NAAM,
Belzebong, SUMA, Dopethrone and have participated in various shows and
festivals in Greece sharing the stage, among others, with 1000mods and
Nightstalker. Automaton has been characterized as a loud and heavy doom act but
apart from slow tempi and down-tuned guitars, they blend heavy riffs, repetitive
minimalistic patterns, psychedelia and space into their own, vintage, analoguerecording
sound. "Echoes of Mount Ida", Automaton's debut, was released on Oct.
25, 2013 by Trailblazer Records as a three-track, 32-min CD EP. It has received
very good reviews by the Greek and international webzines and press. Now "Echoes
of Mount Ida" has been remixed, specially mastered for vinyl and is issued on vinyl
via Sound Effect Records as a 4-track LP, including "Fear", a monster track full of
monolithic riffs built up on colossal heavy layers. More than this with the special
guest appearance of our space brother Dr. Space aka Scott of the amazing
Oresund Space Collective fame. With his amazing analog synthesizers has lifted
the opening track "Going Down" remix to the outer cosmos.
The album comes in 3 different limited editions with revised artwork and silk screen
cover and a special tour edition, on black vinyl in a specially printed disco-bag.