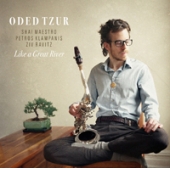 Tzur Oded
Like A Great River
Label: Yellow Bird
Genre: Jazz / Avant Garde
Availability
CD Digi / Cardboard €17.49

In Stock
In 2012, Oded led a rehearsal in Brooklyn with Shai Maestro, Petros Klampanis and Ziv Ravitz. The immediate connection between the four musicians led to the creation of the Oded Tzur Quartet, an ensemble that explores relationships between the jazz setting and Indian music's melodic architecture. The Quartet has performed at many venues throughout New York City and in 2014 recorded its debut album: Like a Great River, which will be released by Enja Records in April 2015.

Oded Tzur
Oded Tzur is a New York City based saxophonist, composer and bandleader. His work draws on Indian classical music and Jazz, and explores fundamental connections between different musical traditions. Tzur is also responsible for the development of "Middle Path", a saxophone technique that extends the instrument's microtonal capacity.
Coming from the Tel Aviv jazz scene Oded Tzur's musical background consisted of rigorous training in a number of musical styles. His curiosity for improvised music led him to discover the ancient art of Indian classical music, which has become the main focus of his work.
In order to pursue the rare prospect of playing Indian music - a style heavily based on microtonality - on a western instrument such as the saxophone, Tzur dedicated about 10 years to the work of expanding the instrument's microtonal scope.

Shai Maestro
Shai Maestro, a 27 year old native of Israel, has already left his mark on the jazz world. After playing, touring and recording for 5 years with bassist Avishai Cohen, Maestro relocated to New York, where he founded his groundbreaking trio: the Shai Maestro Trio. The pianist keeps a busy schedule, playing as band leader as well as a sideman. He has shared the stage with many world renowned musicians such as Jorge Rossy, John Patitucci, Keith Carlock, Nate Smith, Kendrick Scott, Scott Colley, Jimmy Green, and many many more.

Petros Klampanis
Described by JazzTimes as a "formidable bassist and composer," Petros Klampanis grew up on the Greek island of Zakynthos, surrounded by the confluence of Mediterranean and Balkan folk music. Since his relocation to New York City in 2008, Klampanis has performed alongside some of the city's renowned jazz musicians, including saxophonist Greg Osby, pianist Jean-Michel Pilc, and drummer Ari Hoenig.

Ziv Ravitz
Ziv Ravitz was born in Israel to a family of musicians. He was drawn to music at an early age and played a variety of instruments before focusing on the drum set. Starting his professional career at the age of 13, he quickly acquired a reputation in a variety of musical styles. Since his relocation to the US in 2000, Ravitz has become one of the most sought after drummers in the NYC scene, playing with artists such as Hal Crook, Joel Frahm, Joe Lovano, Ralph Alessi, George Garzone, Ben Monder, Avishai Cohen, Omer Avital, Aaron Goldberg, Aaron Parks, Esperanza Spalding and many others. Ravitz has also been a member of the Lee Konitz Quartet, with which he recorded two albums.