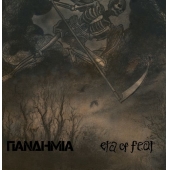 Pandhmia / Era Of Fear
Split
Label: Liquid Bass Records / Eye5 Records
Genre: Dark / Post Punk / Gothic / Neo-Folk
The long awaited split LP is finally here!
Pandimia (Athens,Greece) return after their full length LP ("Modern Pestilence" - 2013) and Era of Fear (Xanthi,Greece) after their 7" ep and a split tape with Dystopian Society.
4 tracks from each band, dark post punk sounds, greek lyrics. 500 12" vinyl copies, includes 2page insert with lyrics. Don't miss it.