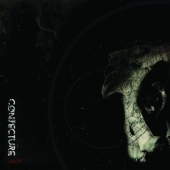 Conjecture
Nunavut
Label: Raumklang Music
Genre: Industrial / Post Industrial / Experimental
The new album "Nunavut" by the Post-Industrial project Conjecture is now officially released.

Like with the first album, the subject of shamanism is present, but with a slight difference on this new album: the description of a dystopian place covered in ice, the country of Nunavut which resides in Northest part of the inhabited earth, in Canada.

Gloomy worlds open up and take the listener trapped in his melancholy. Nunavut draws you into the abyss of the sound. Pure, clear, honest and without compromise.

The cd contains 11 tracks (one featuring track with the screaming vocals of the Greek Hardcore band Psycorepaths) and 2 remixes.