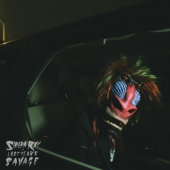 Ray Shilpa
Last Year's Savage
Label: Northern Spy
Genre: Rock / Pop
Availability
CD Digi / Cardboard €17.99

Dispatched within 5-10 working days
Shilpa Ray is a wailing, fire breathing Cyclops. She tornadoes everything in her path: small towns, big cities, and children's dreams. One of her fans commented on a YouTube video, "If there's a heaven, I want God to hire Shilpa Ray to sing the list of my sins."
Shilpa Ray has, up till this, point, yes, been an "artist's artist." Just about every musician inNew York City, who doesn't hate her, loves her. Nick Cave sings her praises to all with the ears to listen (he brought her along a European tour as an opener and as a backup singer in the States). Obviously there are some who will always prefer lesser versions of the Shilpa Rays of the world (as if there could be more than one), preferably with blue eyes and On Brand Waifishness, but the truth will, eventually out. Talent this big can only be kept down by for so long before the sky cracks and we all drown in the blood of angels. Either way, this is Shilpa Ray's year.
With Last Year's Savage (maybe a nod to Leonard Cohen maybe a nod to Barrence Whitfield) Shilpa Ray has taken the pain and dark funk of earlier sounds and made explicit the sublimity that was always there just below the surface. The conversation has become less a break up with doors ripped from their hinges and more the last pained pillow talk before parting.
The obsessions with sex, death, bodily functions, and betrayal (not necessarily in that order) remain but Shilpa has expanded the palate to convey the resignation, the simmering discontent of an artist disenfranchised and held down. This is a quieter rage than the music Shilpa Ray has made before, more plaintive and considered, even if it's the quiet of a hand gripped tight on the axe handle. The music remains gorgeous and stirring in its directness while Shilpa herself remains, thankfully, entirely and inappropriately threatening.