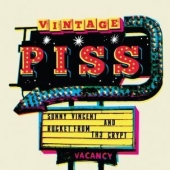 Vincent Sonny And Rocket From The Crypt
Vintage Poss
Label: Swami
Genre: Rock / Pop
Availability
CD €17.49

Dispatched within 5-10 working days
Vintage Piss is the baby whose seed was planted on the 2003 Rocket From The Crypt US tour, which also paired some members of the band with legendary 1970s New York outta control rock 'n' roller Sonny Vincent. After the Swami release of Vincent's previous band Testors' Complete Discography, Speedo (John Reis), Ruby Mars (Mario Rubalcaba) and The Notorious ND (Andy Stamets) served as the man's backing band and slashed through his Testors repertoire resulting in a primo barrage of 1970s neo-proto-punk.
After one particularly meaty performance in Chicago amidst high fives and ass slaps signifying a job well done, the inspiration to write and record new songs struck. Back in San Diego, late 2003, the group incubated in Drag Racist Studio (where Rocket From The Crypt recorded Live From Camp X-Ray and Hot Snakes Suicide Invoice). They employed a steam-of-consciousness
approach to making noise by recording songs and ideas live in the studio without rehearsal. With Vincent's voice and blazing, James Williamsonesque Les Paul attack leading the way, the band followed him into the punk abyss, emerging with a record that is both Sonny Vincent and Rocket From The Crypt. Unfortunately, the studio and Swami Records became buried by
transition. It was to be the last thing recorded at Drag Racist before the studio shut its doors. The recording lay dormant, unmixed and unfinished.
With the 2013 reformation of Rocket From the Crypt and the continued re-release of Sonny Vincent and Testors material, a rekindled interest in the lost artifact of rock 'n' roll led Swami to revisit these masters eleven years later. Tapes in various state of degradation were baked and restored to playability, resulting in the unearthing of a true forgotten gem. Produced and recorded by John Reis, mixed by Ben Moore, mastered by Dave Gardner at Magneto Mastering and featuring artwork by savage visionary Chris WeThreeClub, Vintage Piss is essential for fans of Rocket From The Crypt, Sonny Vincent, Testors and those attracted to the maverick, Cro-Magnon spirit of punk rock's beginnings.