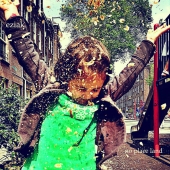 Eziak
No Place Land
Label: God
Genre: Post Rock / Avant Rock
Eziak, a three-member band from Chalkida, a city of Greece, is getting involved in the world of contemporary music introducing a cinematic post rock aspect of music.
Eziak's story begins in 2008, when Nektarios Manaras had started recording at his home, while he came up with an idea of forming a band in order to enrich the existing recorded material with various instruments and sounds.
In 2010 he met, the other two core members of the group Vangelis Varis and Xenofontas Athanasiou which used to know from past jamming sessions.
They began coming together, spending many hours of rehearsals, while experiment on various instruments and new tracks.
Chicago's band Tortoise, David Sylvian, Can, The Incredible String Band, and contemporary Jazz recordings are some of their influences. As a result the group was formed, composed of Vangelis Varis on drums and percussion, Xenofontas Athanasiou on guitars and Nektarios Manaras on guitars, flugelhorn, electronics.
They had a mutual desire to create a sound that mixed post rock, jazz and folk in a soundtrack oriented spectrum while music reviewers characterize their sound as unclassifiable.
In 2012 after two years of rehearsals the band entered the studio to record their debut album under the name "Nomads" which consisted of a darker tone and soundscapes compared to its successor. "Nomads" included the appearances of Stelios Romaliadis (Luup) on flute and Dimitris Dimitriadis on double bass.
On May 2013 the group got back to the studio to record their second album "No place land". An album that depicts sides of life such as melancholy, salvation and joy. The album recorded in four days with the contribution of Zenjungle (saxophone), Alexandros Karlis (double bass) and Giannis Papadimos (violin). Nevertheless the mixing process lasted over one year since the band had to pause for some period. Both albums have been recorded live in order to feature the elements of realism and energy. For the future the plans are to keep on jamming in their home studio, do live appearances, while also start working upon new material.