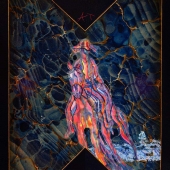 Avey Tare
Cows On Hourglass Pond
Label: Domino
Genre: Rock / Pop
Availability
CD Digi / Cardboard €17.49

Dispatched within 5-10 working days
Avey Tare, a.k.a Dave Portner of Animal Collective, has announced the new album Cows On Hourglass Pond.

Cows On Hourglass Pond was recorded between January - March 2018 by Dave Portner at Laughing Gas in Asheville, NC on a Tascam 48 half-inch reel-to-reel tape machine. The album was mixed by Adam McDaniel and Dave Portner at drop of sun in Asheville, NC.

The first song to be released from the forthcoming album is "Saturdays (Again)".

Cows On Hourglass Pond follows the 2017 release of Avey Tare's Eucalyptus, and 2018's audiovisual album Tangerine Reef, a collaboration between Animal Collective and avant-garde coral macro-videographers Coral Morphologic.