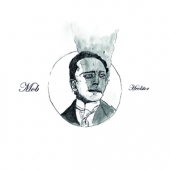 Mob
Heolstor
Label: More Mars
Genre: Industrial / Post Industrial / Experimental
Mob is a Greek noise band founded in Athens by George and Dimitris. Their music is rough and brutal, with references to the harsh noise music scene of the 80s, exploring the limits of sound.

Heolstor is their second album release, recorded in the summer of 2014, using analog and handmade equipment. The CDr is accompanied by a 12 pages hand bounded booklet of 11 portraits and two sketches, typical example of George's drawing.

This is a limited 80 numbered copies CDr.