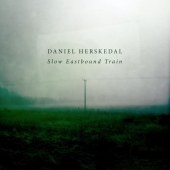 Herskedal Daniel
Slow Eastbound Train
Label: Edition Records
Genre: Jazz / Avant Garde
DANIEL HERSKEDAL tuba, bass trumpet
EYOLF DALE piano
HELGE ANDREAS NORBAKKEN percussion
THE TRONDHEIM SOLOISTS chamber string orchestra
ERIK JOHANNESSEN producer
Tracklisting
1. The Mistral Noir 4:11
2. Rainfall 3:37
3. Monsoon Coming 6:34
4. The Solar Winds Effects on Earth 4:06
5. Daniels Dust Devil 2:00
6. Slow Eastbound Boat 5:13
7. Slow Eastbound Train 5:03 8. Snowfall 4:19
9. Crosswind Landing 2:01
10. Bydlo 3:06
11. Sea Breeze Front 5.15
About
A tuba playing jazz musician might have the right to describe his sound as unique – after all, tuba soloists in jazz are as rare as hen's teeth. But when we describe Norwegian tuba player and composer Daniel Herskedal
as unique, we're not referring to his choice of horn. In the last few years this young musician has proved he has the facility, vision and musicianship to push the boundaries of his instrument, technically and sonically, further than anyone has done so. The result , as demonstrated by his new album 'Slow Eastbound Train', is a spellbind- ing and mesmerising sound worthy of a vast international audience.
In Norwegian musicians Eyolf Dale (piano) and Helge Andreas Norbakken (percussion) as well as the Trond- heim Soloists, Norway's most celebrated string orchestra, Daniel has the perfect vehicle to demonstrate his facility as both instrumentalist and composer. And 'Slow Eastbound Train' is a sublimely beautiful and melodic album full of diverse influences and unique soundscapes that entirely fulfils both Daniel's promise and the full potential of this group.
Based in Copenhagen, Herskedal first came to our attention with the release of his superb album 'Neck of the Woods', a duo with saxophonist Marius Neset, in which his technical brilliance and combination of diverse influences firmly established his reputation on the European jazz scene as a world class musician and one to watch. Since then he has toured extensively throughout Europe with Django Bates, Trondheim Jazz Orchestra as well his own projects City Stories, Listen, Dagane and Magic Pocket.
Beneath the melodic, sublime, elegant themes that make up the pieces on 'Slow Eastbound Train' there's a rhythmical energy in the string writing as well as the virtuosity of his tuba playing that gives the album its wonderfully varied and vibrant feel. This is the sound of a master arranger and musical thinker at work.
However we describe Daniel Herskedal, his work and his virtuosity, there's no doubting that a major artist has arrived. It's rare to find an artist with fresh ideas, the technical facility to push boundaries and the maturity
to understand how to express this in the all-important listening experience, but with Daniel we are seeing the emergence of just such a one, We can only sit back and admire the result: a beautifully executed album that will continue to inspire and move us long into the future.
Credits
All music by Daniel Herskedal except Bydlo by Modest Petrovich Mussorgsky, arranged by Daniel Herskedal.
Recorded by August Wanngren in Bark Studio (Oslo) March 25th and 26th 2014 and by Rune Nordal in Nidaros Studio (Trondheim) March 29th and 30th 2014.
Mixed by August Wanngren at We Know Music Studios (Copenhagen) in July 2014, Mastered by Thomas Eberger at Stockholm Mastering (Stockholm) in August 2014.