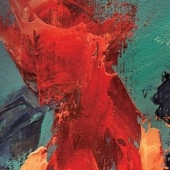 Submotion Orchestra
Alium
Label: Counter
Genre: Freestyle / Nu Jazz / Funk / Afro
Availability
CD Digi / Cardboard €12.99

Dispatched within 5-10 working days
Since forming in Leeds in 2009, they have carved out their own special place in the UK's ever-changing musical landscape. The 7 piece band's fusion of bass heavy electronica, jazz, soul and much more besides has made them a favourite of the likes of Gilles Peterson, Trevor Nelson and Jo Whiley, whilst their live show has seen them play festivals around the world and sell out venues such as London's famous KOKO.
Now following two critically acclaimed albums, Finest Hour and Fragments, Submotion Orchesra return bigger, brighter and bolder than ever with Alium; their first album for Counter / Ninja Tune. Released on November 3rd, Alium sees the band in an expansive mood as the interplay between their electronic and acoustic sounds has become more natural than ever, whilst Ruby Wood's vocals continue to find new levels of emotion.
Written over two years in the remote Welsh countryside with just 'passing sheep and a rusty ping-pong table for company' and recorded in Brighton, Alium has been a true group effort with every band member involved in the writing and recording process, something that is reflected in the album's varied nature.
From neon synth strafed opener 'Awakening', to the bruising 21st century soul of 'Time Will Wait', the tense cinematic drama of 'Bring Back The Wolf', 'The Hounds'' late night/early morning jazz workout and the unashamedly big pop moment that is 'Trust Lust', Alium may be a dazzlingly eclectic record showcasing the band's myriad talents, but thanks to producer Ruckspin's deft touch remains a satisfyingly coherent whole.
With a busy summer schedule that will see the band play over a dozen festivals in 7 different countries and a full UK tour lined up for later in the year Alium looks set to cap a triumphant year for the band as they continue to push the boundaries of what an 'electronica' band can and should be.