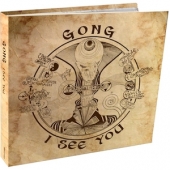 Gong
I See You
Label: Snapper
Genre: Post Rock / Avant Rock
Availability
CD BOOK €16.99

Dispatched within 5-10 working days
There is so much to enjoy on this album of many levels, with stunningly good tracks, that I cannot imagine any Gong devotee will be disappointed.
If this turns out to be daevid and Gilli's Gong swansong, and we hope and pray that it's not - what a way to bow out. I don't need to write about this album, the samples sing out for themselves, and I could have easily chosen almost any random minutes from the tracks and the quality would shine through.
Packaging is a didgipak affair with an illustrated 28 page booklet which the label call a 'media pack' - no I have no idea either what that is, but there's lots of it and it looks very stylish.