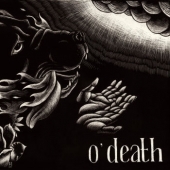 O'death
Out Of Hands We Go
Label: Northern Spy
Genre: Rock / Pop
Availability
CD €16.99

Dispatched within 5-10 working days
As o'death wrapped up production on their third studio album Outside at the end of 2010, lead-singer/guitarist Greg Jamie relocated to Biddeford, Maine, to take over a local music and arts venue and turn it into The Oak and The Ax. Since then, Maine and The Oak and The Ax have become a second home for o'death and eventually the location for the recording of their fourth full-length studio album.
The band convened in South Portland, ME, to work with lo-fi recording guru, Caleb Mulkerin (Big Blood, Fire On Fire, Cerberus Shoal) and to take advantage of the homey space in Biddeford they had performed in many times since 2011. On Out of Hands We Go, o'death return to a focus on live performances with Jamie's voice and lyrics planted firmly in the center of the band's dynamic arrangements, a stark departure from the multi-tracked and meticulously overdubbed Outside.
Greg Jamie's strength as a lyricist is his ability to create evocative images and details that come together to form a narrative if the listener is ready to walk the path. Out of Hands We Go contains stories of a more personal nature, abandoning horror-film vignettes in favor of heartbreak ("Heal In The Howling," "Herd," "Apple Moon,"), defiance ("Roam," "Wrong Time," "Wait For Fire") and ultimately triumph ("All Is Light," "We Had A Vision") before culminating in the climactic "Isavelle" that fires on all dramatic cylinders.