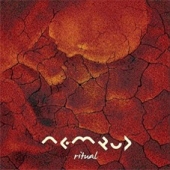 Nemrud
Ritual
Label: Rainbow45 Records
Genre: Rock / Pop
The band Nemrud, from Istanbul, Turkey has been founded in 2008. RITUAL is their second album and their first in vinyl format.
As a conceptual album, Ritual focuses on the story of mankind, his journey from darkness to  enlightenment, goodness and evil, death and existence of the souls.
This master piece was recorded analogue and hopefully offer you the taste of 70's , especially through the sound of moog and other classic equipments, go in a perfect harmony, following the footsteps of Eloy, Pink Floyd, Yes, King Crimson, Baris Manco etc.
This is a very good mixture of space rock, progressive rock and psychedelic elements with Turkish Flavour.
Let the Ritual begin.