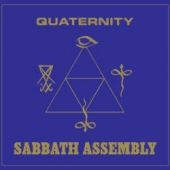 Sabbath Assembly
Quaternity
Label: Svart Records
Genre: Rock / Pop
Side A of Quaternity the album begins with a look at the four deities worshipped in the theology of the Process Church of the Final Judgment -- Christ, Jehovah, Lucifer, and Satan –each tune providing the deity with its own voice, unmediated by Christian prejudice. Lucifer is again the light bearer, Satan the source of primal strength, Jehovah the vengeful destroyer, and Christ the master of death.
Side B explores another four: the horsemen of the apocalypse of Revelations. This intricate, sidelong piece was conceived in anticipation of 12/21/12. For those who got the 7" last year, this is the full 20-minute version. Quaternity is primarily acoustic in format, with an array of classical percussion and strings creating an entirely new sound for the band. Unlike its predecessors Restored to One and Ye Are Gods, Quaternity offers a majority of original material with inspiration from the Process found primarily in the lyrics. One exception is the completely unpublished "Lucifer," shared with the band over the telephone via former Processian Anthony D'Andrea, who had contacted the band complaining that they were not "getting the hymns right."
Quaternity once again features Jamie Myers on vocals and Dave "Xtian" Nuss on percussion. Special guests on the album include Daron Beck of Pinkish Black accompanying Jamie on vocals, Kevin Hufnagel of Gorguts on guitar, Mat McNerney and Marja Konttinen of Hexvessel reciting sacred texts, liturgical chanting by Jessika Kinney (Sunn 0))), Wolves in the Throne Room), bass from Colin Marston of Behold… The Arctopus, and organ from "Nameless Void" of Negative Plane.