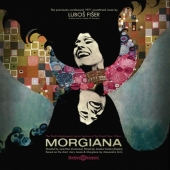 Fiser Lubos
Morgiana
Label: Finders Keepers
Genre: Soundtrack
Availability
10\"+MP3 COUPON €18.99

Dispatched within 5-10 working days
Galvanising our ongoing commitment to the lost music of the Czech New Wave cinema movement from the late 1960s and 1970s, Finders Keepers Records follow up our series of previously unreleased music to Valerie And Her Week Of Wonders, Daisies, Saxana and The Little Mermaid with a short series of soundtracks for films by the country's master of the macabre and the nation's first point of call for freakish fairytales and hallucinogenic horror, Mr. Juraj Herz.
Regarded as the final ever film of the Czech New Wave, Juraj Herz's Morgiana (alongside Valerie And Her Week Of Wonders) was made after the Prague Spring during Czech cinema's most scrutinised censorship era, deep in the throws of communism. Spearheading a micro-cosmic sub-genre of horror fantasy or scary/fairytales alongside Karel Kachyňa's Malá Mořská Víla (The Little Mermaid), these directors built a handful of subversive, flamboyant and experimental new films based around classical communist approved surrealist literature; sidestepping creative compromise and uniting some of the leading lights of the FAMU founded film movement for the last time. Both musical scores courtesy of Luboš Fišer unite Valerie and Morgiana; sharing doppelgänger production and compositional ideas presented by Finders Keepers Records for the first time ever outside of the original context of the film.
It is easy to hear why the music for both films could easily be confused as part of the same score, or as very close twin sisters, having been recorded just 18 months apart in 1970 and 1972. Revealing tiny shards of identical melodic phrasing, the Morgiana score visits darker hallucinogenic corners for this tale of two sisters seen through the perspective of giallo-esque "cat's eye" cam- era work (filmed by Jaroslav Kučera) revealing poison induced hysteria fuelled by sibling rivalry and desperately twisted jealousy. Adopting his mys- teriously macabre musical persona, the versatile Fišer interweaves chimes, harps and harpsichord with echoing flutes, lutes and piano, applying his sig- nature orchestral tension and experimental percussion traits in the form of treated pianos, vibra-slaps, tape samples of striking matches and spring reverbs to this oblique heady selection.
Revered in similar esteem to that of Czech film legend Zdeněk Liška, Fišer's unreleased filmography of forward-thinking Czech scores is slowly reaching a wider global audience through his first-ever dedicated commercial soundtrack releases which should, in time, win him the same votes of confidence that we now award the likes of Komeda, Korzyński, Roubaix and Nicolai, amongst other European soundtrack luminaries.