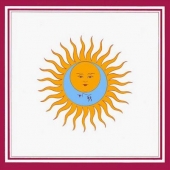 King Crimson
Lark's Tongues In Aspic - Vinyl Reissue
Label: Dgm
Genre: 60s / 70s Rock / Pop / Progressive / Kraut
DGM & Panegyric are proud to present the fifth in a series of King Crimson high quality vinyl reissues with the September release of 'Larks' Tongues in Aspic'. The album's return to the 12" vinyl format is newly cut from masters approved by Robert Fripp. Manufactured on 200 gram super-heavyweight vinyl & housed in a reprint of the original sleeve, this edition also contains bonus MP3 codes giving access to a download of a transfer of an original 1973 pressing.
Demand for King Crimson vinyl is stronger than at any time since the mid-1970s.
As one of the band's most influential & best-selling albums this title has been one of the most requested titles for vinyl reissue.
Recorded at the start of 1973, 'Larks' Tongues In Aspic' marked the studio debut of King Crimson's third live line-up. The band had been together since the summer of the previous year, with founder member Robert Fripp joined by Bill Bruford (from Yes), John Wetton (from Family), Jamie Muir & David Cross. A short tour of Germany in October 72 was followed by an extensive UK tour in Nov/Dec as featured in last year's complete recordings boxed set. By the time the album was recorded, the band was well rehearsed with a strong set of material. Muir quit shortly after completing the recording sessions leaving Crimson with its most stable & influential line-up of the decade - a line-up that would cement the band's reputation as one of rock's foremost recording & performing outfits.
Most of the material on the album quickly became established as part of the live set with tracks like the title track & 'Talking Drum' often becoming the start points/springboard for the improvisations integral to Crimson's performances.
'Larks' Tongues II' was one of the few pieces of the era to be performed regularly by the 80s line-up & also became a favourite of audiences & band alike for the double trio Crimson line-up of the 90s.
Larks' is the first part of a trilogy that also encompassed 'Starless & Bible Black' & 'Red' - a body of work that still sounds remarkable some 40 years later. The albums have been consistent sellers from the point of release through to the present day.
Band line-up: Robert Fripp: guitar, mellotron & devices. John Wetton: bass & vocals. Bill Bruford: drums. David Cross: violin, viola, mellotron. Jamie Muir: percussion & allsorts.