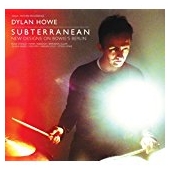 Howe Dylan
Subterranean - New Designs On Bowie's Berlin
Label: Motorik
Genre: Jazz / Avant Garde
Availability
CD Digi / Cardboard €18.99

In Stock
A radical take on the instrumental cuts from David Bowie's 1977 albums Low and "Heroes" from drummer Dylan Howe, "A superb player, inspiring and invigorating" (The Guardian). It features saxophonists Julian Siegel and Brandon Allen, Adrian Utley from Portishead on guitar and Yes guitarist Steve Howe on koto.
'Subterranean' is Dylan Howe's first studio album in ten years. It's made up of his arrangements of Bowie's influential music from his Berlin Trilogy and has been seven years in the making. It features some of the best musicians in the UK. Alongside Dylan Howe (drums/synths) are Ross Stanley (piano/synths), Brandon Allen and Julian Siegel (tenor saxophones), Mark Hodgson and Nick Pini (double bass), Adrian Utley (guitar) and special guest, the legendary Yes guitarist Steve Howe playing koto.
Dylan Howe is a British drummer (born in 1969) best known for leading his quintet and other jazz groups since 2002 and his tenures with Ian Dury and the Blockheads, Steve Howe and Wilko Johnson (he played on the number one album, 'Going Back Home', with Roger Daltrey). He has also played with the likes of Nick Cave, Damon Albarn, Ray Davies, Paul McCartney, David Gilmour, Beth Gibbons, Gabrielle, Hugh Cornwell and Andy Sheppard amongst others.