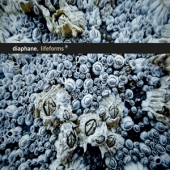 Diaphane
Lifeforms
Label: Ant Zen
Genre: Electronica / Ambient / Experimental
Availability
CD €14.49

Dispatched within 5-10 working days
three years after the release of 'samdhya', ab ovo band member régis baillet presents the second album of his solo project diaphane which is both a continuation and an advancement on his previous work. on 'lifeforms' diaphanous's unique combination of atmospheric melancholy and haunting intensity is still present, but the focus on rhythmic power has been significantly increased. deep, spherical soundscapes with a cinematic feel are pushed forward on to of complex beat structures with influences ranging from drum'n'bass and dubstep to idm.
like an experienced film director, régis is permanently building and collapsing arcs of suspense. beautiful piano-based melodies supplemented with electronic sequences which result in either highly energetic, pounding rhythmic rage or relaxing sound layers - a perfect balance of movement and downtime.
a very passionate and emotional album which will trigger the listener's emotions in many different ways.