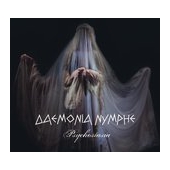 Daemonia Nymphe
Psychostasia
Label: Prikosnovenie
Genre: Dark / Post Punk / Gothic / Neo-Folk
Availability
CD Digi / Cardboard €14.49

Dispatched within 5-10 working days
Six years after 'Krataia Asterope' (2007) and many Live dates in Europe, the Greeks led by the duet Spyros Giasafakis & Evi Stergiou are back with their new album 'Psychostasia' (the "weighing" of souls by Gods).
Since its origins the band uses instruments recreated from the Greek Antiquity : lyre, pandoura, double flute ... During their shows, the 3 singing Nymphs wear masks and interpret bewitching ancient danses.
'Psychostasia' takes us into the journey of a Life, the journey of a Soul. It starts with Zephiros (the god of Wind), then comes 'Pnoe' the breath that animates each thing ... During the trip, we will meet Gaia, the forces of Nature, the moon dances for Selene and Eros, to finish into Hypnos's dreams.
The new songs are perfectly sculpted for Live shows with epic and powerful 'rock' riffs, hypnotic dances celebrating the Moon and superb polyphonic choirs (guest:Taiteria) reminding the Balkan choirs of Goran Bregovic. Daemonia Nymphe rises in intensity and now is part of the essentials of Pagan Folk scene.
Note the contribution of Peter Ulrich (ex dead can dance), Dimitra Galani (Reknown Greek singer), Dessislava Stefanova (Head of Bulgarian choir in London), Luka Aubri (ex-Omnia), Peter Jaques (Stellamara) ... The album was recorded in London, Athens and Thessaloniki