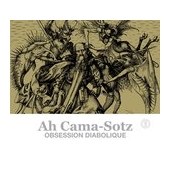 Ah Cama-sotz
Obsession Diabolique
Label: Hands
Genre: Industrial / Post Industrial / Experimental
Availability
CD Digi / Cardboard €15.49

Dispatched within 5-10 working days
"Covering the Orient, the Middle-East, Western culture, the Unknown and the Unspoken" – the perfect subtitle for AH CAMA-SOTZ's 2013 album, which covers all of these aspects, summarizing and enhancing all that has made this project into a prime act in the post industrial scene over the past two decades.

AH CAMA-SOTZ are known as the brainchild of Belgian musician Herman Klapholz, well respected in both, the darker and the more rhythm-geared industrial scenes. Celebrating their 20th anniversary, ACS can look back on a string of praised releases and a large number of acclaimed live performances. After three self-released albums, "Obsession Diabolique" also marks the return to the HANDS label, and it is certainly an appropriate gift for the occasion. The album covers the entire range of musical styles that ACS have explored throughout their career, from noisy collages over dark drones to electronic beats and distorted rhythms.

"The Orient and the Middle-East" have always been a fertile source of inspiration for AH CAMA-SOTZ, and this album contains a number of pieces based on organic rhythm patterns and ethnic chanting. Herman Klapholz manages to cover the past and the present of the AH CAMA-SOTZ sound and reach out to the future, integrating timeless atmospheres and contemporary rhythm patterns, all with a trademark sound. A multi-faceted album suited to novices as well as seasoned ACS followers.